Then there's the level, which is how big the wave is, or in everyday language, how loud the sound is. Humans can hear sounds from whisper-quiet to super-loud, 0 to 140 decibels. Just remember that loudness and pitch don't always go hand in hand – a train and a car might make the same pitch but at different volumes.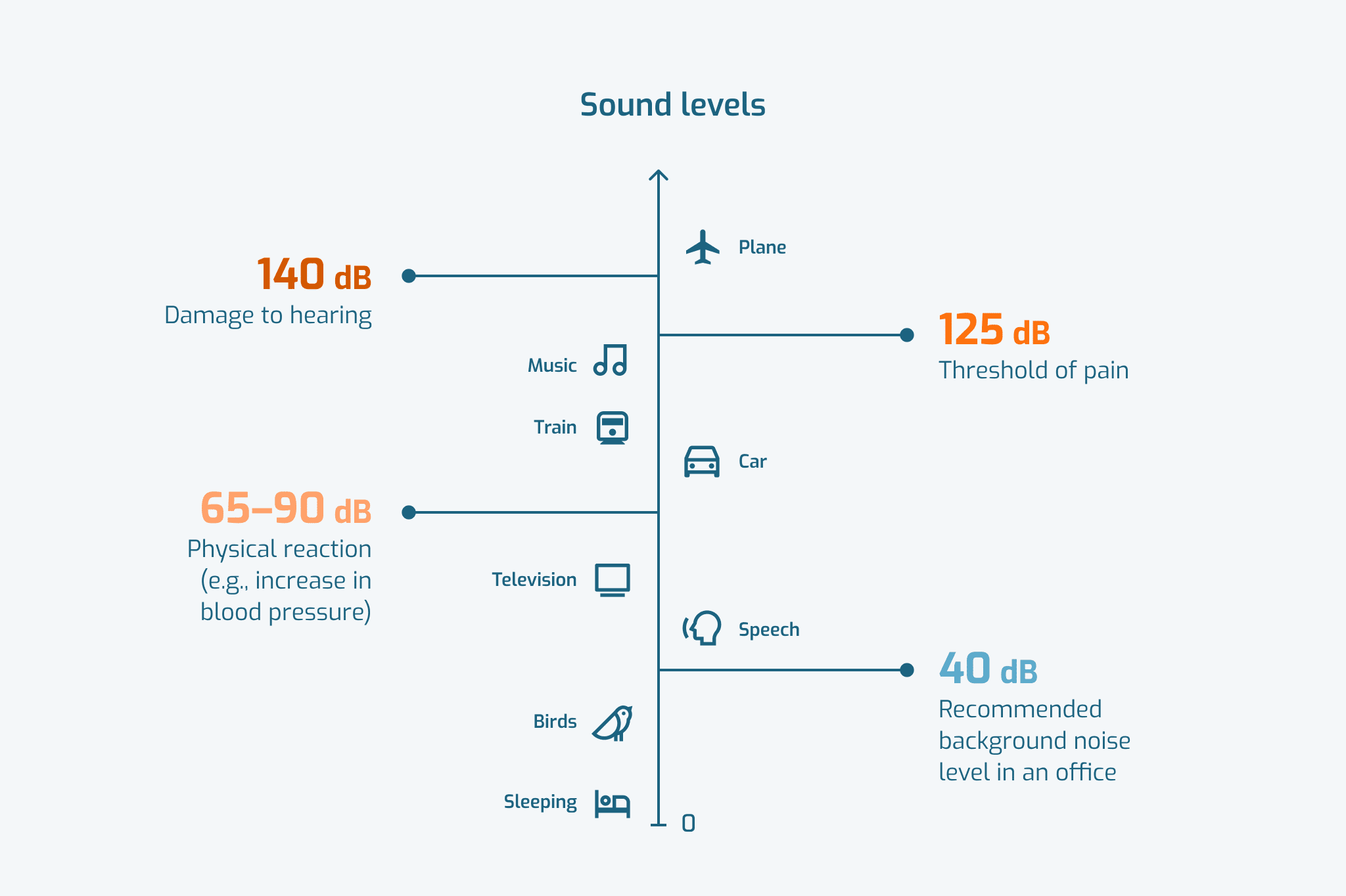 Why Room Acoustics Matter 
Ever been in a space where sounds bounce around like supercharged ping-pong balls? That's called reverberation, and it's a nightmare in open offices. When sound waves can't escape, they bounce off walls and surfaces, creating an echo chamber that makes it hard to understand what people are saying.
The trick to taming the echo is to absorb those bouncing sound waves. That way, you can dial down the noise, making it easier to understand speech and reducing the racket from things like fans, footsteps, and phone conversations. More absorption means less noise, and less noise means a more peaceful work environment. 
Furniture: The Unsung Hero of Sound Absorption
Here's where furniture steps in to save the day. Furniture with acoustic properties is designed to suck up those sound waves, preventing them from bouncing around the room. The result? Less echo and more clarity.

Materials like synthetic felt and foams are great for this because they're porous and let air through. The effectiveness of a material at absorbing sound is measured by something called the acoustic absorption coefficient, a scale from 0 (fully reflective) to 1 (fully absorbent).
Another important concept is the absorption area value. It's like the sound-absorption superpower of a piece of furniture, calculated by multiplying the absorption coefficient by the surface area of the material. The bigger the furniture and the better it is at absorbing sound, the higher this value will be.
---
Synthetic felt and foams, materials with high sound absorption, are prominently featured in Intuit's products. Intuit's acoustic furniture belong to the top acoustic absorption class, efficiently absorbing high and mid-tone frequencies that correspond to speech levels.
---
So, next time you're choosing an office sofa or other furniture, consider both how good it looks and how much sound it can absorb. Because a quieter office isn't just more comfortable – it's more productive, too.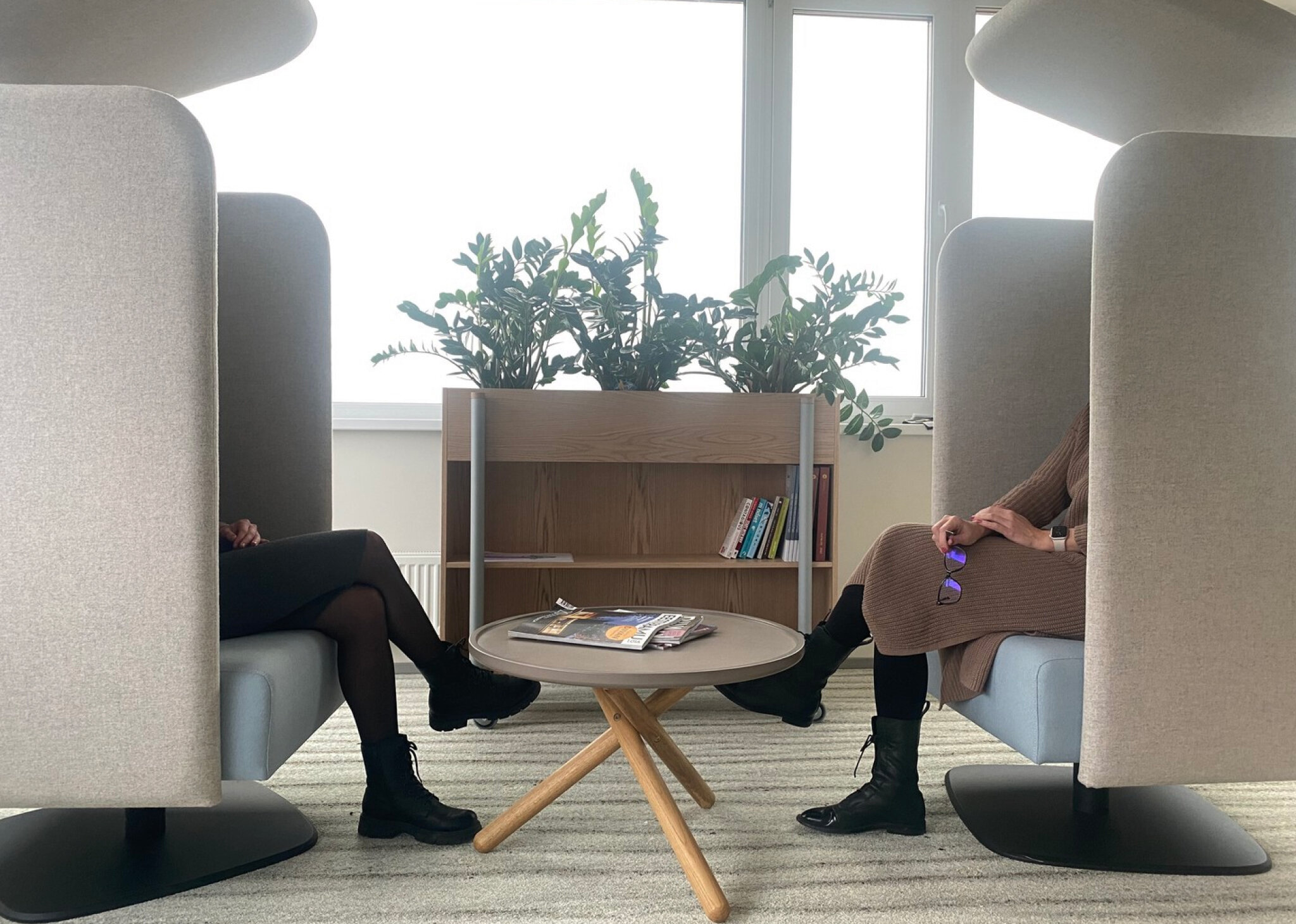 Designing for performance: implementing acoustic design in your office
Acoustic solutions can be tailored to suit various areas within an office, from open spaces and individual workstations to collaboration zones. By taking into consideration the number of employees, office equipment noise, and the need for private conversations, you can design a workspace that balances noise control and productivity.
Individual workstations: 
Provide private places where individuals can hunker down, concentrate, and solve tricky problems without being disturbed. 
Intuit suggests: August Nook, August Workbay, Booth and Sigmund
Collaboration spaces: 
Create breakout spaces to keep conversations away from more focused work areas. 
Intuit suggests: August Sofas and Armchair, Sans with walls, Frankie
Open-plan acoustic absorption: 
Consider how much noise usually occurs in your office space, and how many sound-absorbent surfaces you'll need.  
Use furniture with sound-absorbing panels in strategic places

 

Keep moveable screens on hand to create quiet space

 
Intuit suggests: Sigmund, Grow and Silent Note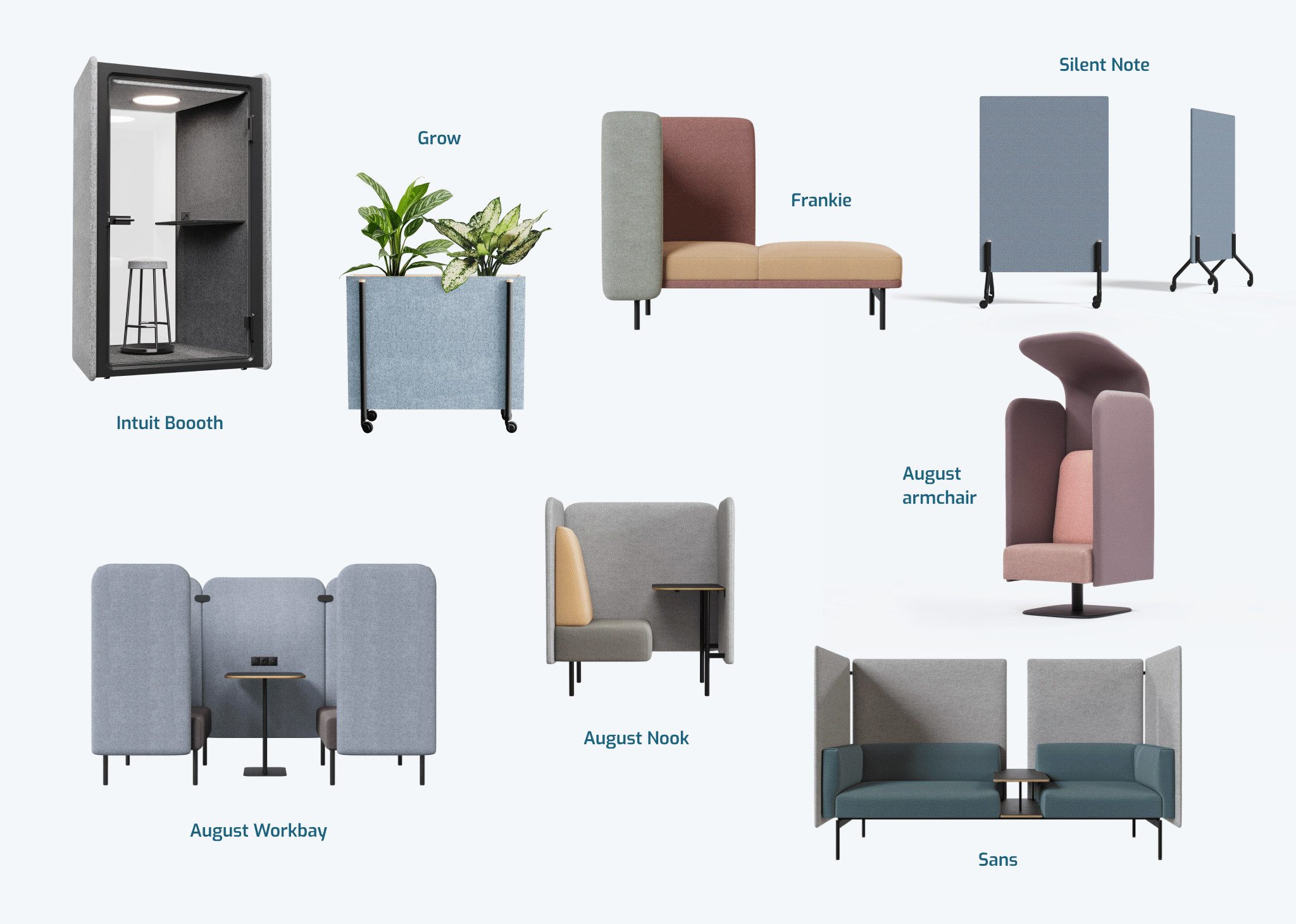 Addressing acoustics with Intuit
At Intuit, we offer an array of acoustic solutions designed to meet your unique office needs. Our products are designed with a deep understanding of acoustics and the dynamics of the modern workplace.
Let us help you create a productive, peaceful, and acoustically pleasant workspace that supports your team and embodies your brand.
It's time to let the symphony of productivity play in your workspace!