We spoke to Martin Pärn, Lead Designer at Intuit and Head of the design firm Iseasi, about how the organisation of work has changed following the coronavirus pandemic and how today's office should accommodate employees.
What do people expect the most from the office today?
There are two views here: the expectation of the employee, and the view of the organisation. People and companies have realised that, to a certain extent, work can be done remotely, both near or far from home. Of course, the rules vary from company to company, but working from home for two days seems entirely normal.
This new working arrangement has been in place for a few years now, and people have grown accustomed to it. But it also places new demands on the way an office is organised and furnished.
Having split their working life between several locations, the employee acts based on which tasks are better done at home and which at the office. What this means is that people don't 'go to work' simply because they must, but because some tasks and activities are best done in the office. For some, it is a chance to focus. But for many, it is a place where they can communicate and work on tasks together.
Before, everyone had their own private desk in the office and there were a few meeting rooms. Today, however, this model needs to be rethought, as the primary functions of the office have become collaboration and socialisation.  At the same time, this change should not be implemented through force – each company has its own operating model and agreements.
To what degree are companies willing to go along with the change?
Companies that care about their employees and strive to offer them the best environment are willing to try and experiment. This starts, first and foremost, with noticing and understanding how employees' behaviours, work habits and work culture have changed. Space and interior design can and must support these changes. Otherwise, all of this new behaviour will happen in spite of the space, and the environment will serve as a hindrance. In short, the biggest change is in the relationship between the different areas – the personal desktop area suited for focus versus the collaboration area.
This area of tables and chairs, often left empty on a daily basis, gives us the opportunity to start rethinking how our space functions. You can start by simply swapping out furniture types, which allows you to create new workspaces, whether it's for separation for a video call, a chat with a colleague or a brainstorming session in a larger group. In addition to furniture creation, we are also ready to help you upgrade your office.
Meeting area separated by a table on wheels, chairs with swivel bases and a curtain. Photo: Märt Lillesiim

What additional functions could an office have?
At Intuit, we look at the office through different zones: reception and waiting areas, concentration areas, collaboration areas and social interaction areas. In the concentration area, employees can break off alone or into groups of two or three, something for which Intuit creates special furniture – from sheltered sofas to work nests and call booths. Not all work has to be done behind a desk. People should be empowered to choose the best means for each activity. For example, we have a separate product named Hide which makes reading comfortable.
Furniture and the layout of the room also play a critical role in the social interaction area. Rather than arranging furniture in rows, we offer solutions that encourage people to interact with each other, either while comfortably seated or gathered around a bar height table for a quick exchange of ideas.
The waiting area is the spatial façade of the company. But it doesn't have to be sparse and sterile. It could be a rich introduction to everyday working life. This is particularly relevant for smaller companies, where this first room could be turned into a welcoming lounge – a place where each new arrival starts their workday, where informal conversations take place.
How has the format of cooperation changed from simply sitting around a long table?
Collaboration is the main reason people come to work. The notion of collaboration is much broader than a traditional meeting. It used to be customary to set up meeting rooms for one type of activity, where you would sit around a table while someone gave a presentation, followed by a discussion. As a rule, the difference in meeting rooms has been determined only by the number of seats. However, if we look at collaboration in a broader sense, we can see that many of these activities do not fit into a traditional meeting room. We need to create workrooms where all participants are equal, where there is no hierarchy. At nearly every meeting, there are people participating remotely via a screen.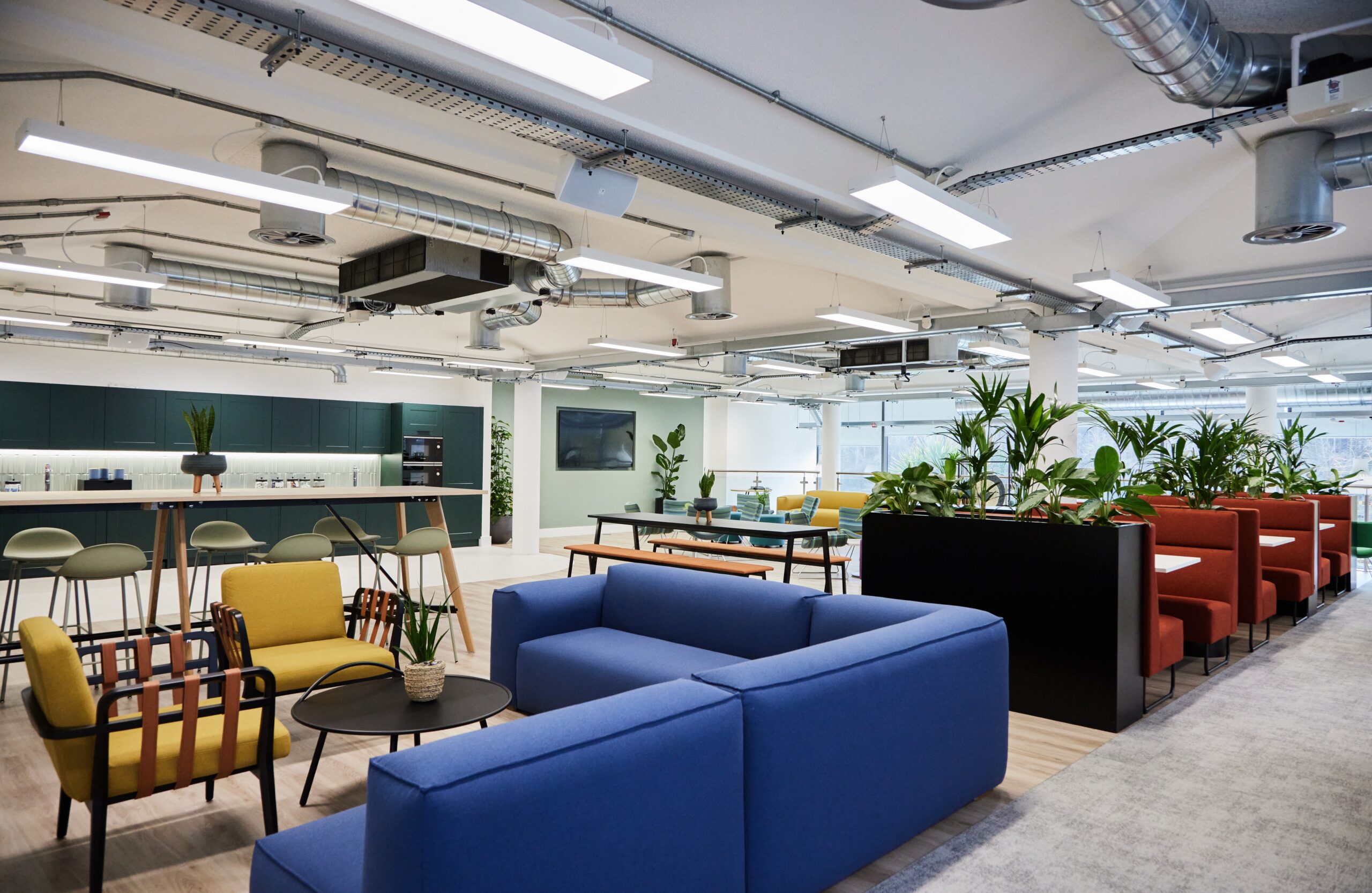 A kitchen-break room offering plenty of choices, where you can eat, enjoy a cup of coffee and chat with colleagues in a relaxed atmosphere. Depending on the preferences and activities of employees. Photo: Sören Kristensen
We need to create solutions that support this kind of hybrid work, so that those who are far away are not forgotten and can be part of the active communication. There are companies where everyone makes two or three Teams calls per day. You know those loud talkers in the open office? A range of possibilities must be created for these calls. Small furniture nests are the easiest way to do this.
Are companies looking for a complete solution when updating their office or do they want to change a specific detail?
For us, finding solutions for the working environment is one whole. At Iseasi we begin with a survey of company culture, where we seek to determine the expectations, needs and habits of both employees and the company. Based on this, we start building a model of a better functioning office. Even while the survey is underway, we are able to make some changes to the rooms and test new ways of working.
Intuit's furniture range also offers customers the option to purchase individual pieces of furniture. We've divided our products into the four key functions mentioned above and invested in detailed product descriptions to make it easier for customers to make independent choices and find solutions that support the activities that matter to them.
How does it work?
Let's take the example of a department or unit that is experiencing major problems with the working environment. We begin to improve it, both in terms of furniture and rules of behaviour. You may also need to add new furniture to the space, but in most cases, you can manage without major construction.
What problems are most often highlighted?
The first concern is generally considered to be that workers are unable to concentrate. The biggest new disruptor here is video conferencing. The problem also arises when people, who complete the work that requires concentration, at home, come to work to socialise. This bothers those employees who only work in the office. So, we need to find a solution that works for everyone.
But if you look at the working day as a whole, you don't need to concentrate all day. This gives us the opportunity to create different areas for different activities. Allowing us to place separation points directly adjacent to work areas.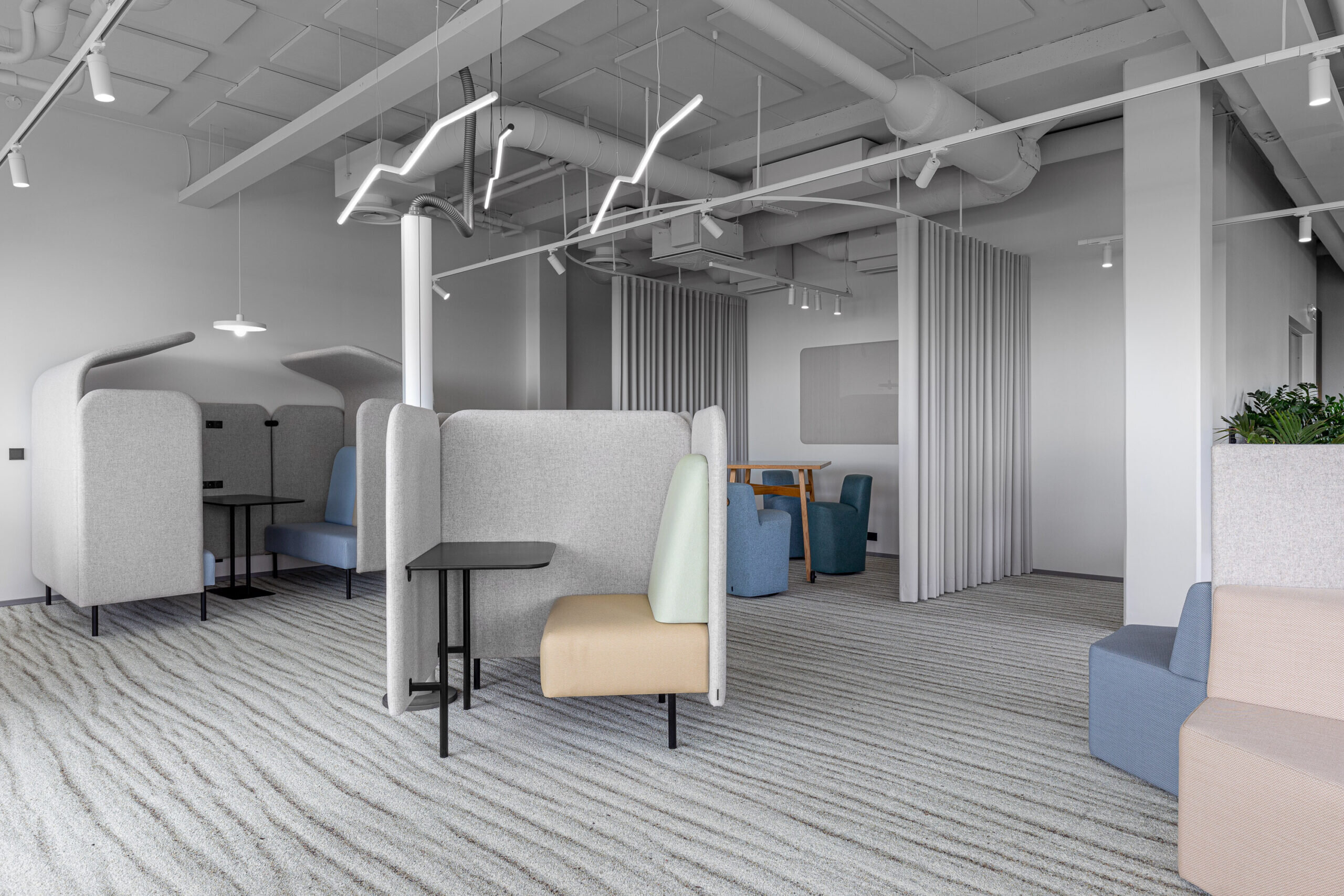 Workstations with visual and acoustic barriers at the periphery of work zones, where in an open office you can separate yourself for focused individual work. Photo: Märt Lillesiim
From the company perspective, the biggest problem is that they perceive that the existing office does not support today's working behaviour. This translates into empty desks, which in turn reinforces the perception that our office is not the best place to work.
How important is good acoustics?
Acoustics is one of the key issues in today's offices and is directly linked to web calls. People speak loudly and forget about others around them. Sound propagation can be limited by acoustic panels, for example, but because our roots are in soft furniture, we create acoustically active partitions that block sound propagation. Intuit has a separate August furniture range, the design of which along with the materials used are inspired by the aim of creating an acoustic and visual barrier.
In what direction could offices develop in the future? Or is the current format here to stay?
Nothing is constant or finished, everything changes. The need for workplaces will remain. This is where an organisation or work group comes together – without it, it is very difficult to maintain and grow a corporate identity. But models change.
Companies may start to ask whether they need all the functions found in their own office space and how much of certain functions could be shared with other companies. Not everyone needs their own large meeting room, workroom, or fancy lounge with kitchen – it can be shared between the whole floor or even a couple.
I believe that this will not only change the way companies think about their workplace, but also the way developers create workable solutions in a building or even a block-by-block basis, offering more and more specific and well-appointed shared spaces. Starting with the gym and moving on to other social and workspaces.